It is my pleasure to have Author Karen Levy visiting the blog today to review, and share the journey of Albert Nasib Badre with his memoir,
Looking West
. Thank you WOW! for including us in this book blog tour!
Please contact me
today
if you'd like to help with this or any other book tour. If you've never participated in a tour, feel free to inquire and I'll be happy to explain how it works - you don't even have to have your own blog and it's a wonderful opportunity to help promote authors while reading the latest books before anyone else can get their hands on them!
Send an email today - email address:
crystal@wow-womenonwriting.com
or
crystaljotto@gmail.com
Now onto this beautiful journey of a Lebanese-American Immigrant named Albert Nasib Badre and his moving memoir Looking West.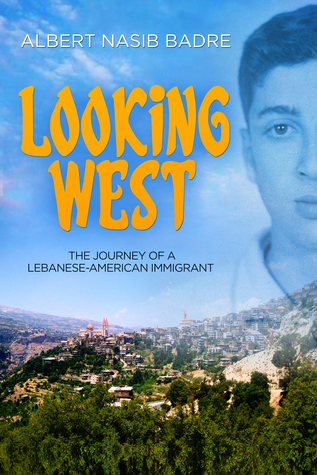 Looking West
begins in 1960 as the Badre family emigrates from Beirut, Lebanon to the United States. This is a dream come true for fourteen-year-old Nasib.
Nasib struggles to assimilate as a teen in Albany, New York. With limited English skills, he attempts to learn new customs, make friends, and adapt to a different culture. In Beirut, the Badre family was well-known and socially privileged. In America, they are unknown nobodies. Nasib adopts his father's name "Albert," and to further Americanize his name, young Albert becomes "Al."
Despite the many frustrations and difficulties, Al's ultimate goal is to become a successful American. The new anonymity actually inspires the young man. Excited by the opportunities available to him in his new country, he determines to make a potent contribution to society.
As he strives to adapt, Al reads voraciously, becoming increasingly interested in religion and philosophy. Books become his "American friends," and reading soon prompts him to ask deep theological questions about his family's Lebanese Protestant roots, his mother's conversion to Catholicism, and the contrast between the Protestant and Catholic faiths. This ultimately leads to his Catholic conversion.
Al's search for meaning in life leads him to social activism among New York City's poorest. And, in time, to graduate studies, where his desire is to improve the human condition through information technology.
Al Badre—like many other American immigrants--works his way through hardship to achieve a meaningful place in his adopted nation.
Paperback: 267 pages
Publisher: WidO Publishing
ASIN: B07N6LR52T
ISBN: 9781947966130
Looking West: The Journey of a Lebanese-American Immigrant is available on Amazon, Barnes & Noble, and IndieBound.
About the Author:
Albert Nasib Badre is an American author born in Beirut, Lebanon. He immigrated to the United
States with his family in 1960 at the age of fourteen. His family made Albany, N.Y. their first home in America where he attended a private Catholic high school through his Junior year. After three years in Albany, the family moved to Iowa City, Iowa, when his father accepted a professor position at the University of Iowa. He finished his senior year at Iowa City High School, then went on to the University of Iowa where he got a Bachelor of Arts in Religious Studies. After college, he spent a year as a social worker in New York City. Deciding social work was not for him, he went on to pursue graduate studies at the University of Michigan where he got his Ph.D. in 1973.
He spent the next thirty years at the Georgia Institute of Technology, and today he's Professor Emeritus of Computing. During his tenure at Georgia Tech, he was an international consultant specializing in designing technology to enhance the human experience. Dr. Badre was an early pioneer in the field of human-centric design, with some thirty years of experience in human-computer interaction, learning technologies, and human-centric e-learning. His background combines expertise in the empirical methodologies of the behavioral sciences and the design approaches of the computing sciences.
Dr. Badre authored numerous technical papers, is co-editor of the book Directions in Human Computer Interaction, and the author of the book, Shaping Web Usability: Interaction Design in Context, which was adopted in several dozen courses worldwide. His memoirs, Looking West, is the story of his coming of age immigration to America and subsequent conversion to the Catholic Church.
Today, Dr. Badre and his wife live in Providence, R.I., near his son and family, where he leads a very active volunteer life, in service to the community.
Find Albert Online:
Website:
https://www.badremusings.com
Twitter:
@anbadre
Instagram:
@anbadre
Goodreads:
https://www.goodreads.com/author/show/197752.Albert_N_Badre
5 Star Book Review by fellow author Karen Levy
Looking West
is a memoir about Albert Nasib Badre's journey as a Lebanese-American immigrant. As a fellow immigrant and author I was excited to read this book. It did not disappoint.
Albert Nasib Badre's narrative rings true for anyone familiar with the heartache of leaving behind one's home and all that is beloved. And while his is the tale of a Lebanese- American immigrant, Looking West can be appreciated by all those who have had to face the unknown, reinvent themselves on foreign soil, and not only become stronger but triumph against all odds.
About Karen Levy
Karen Levy is an Israeli-American writer. Born in Israel, Levy spent her childhood traveling between her native land and the United States. Following her military service, Levy returned to the U.S. where she earned her B.A. in Comparative Literature and an M.A. in English, Creative Writing. Her memoir, My Father's Gardens is a candid account of a life divided between countries, friends, languages and alliances.
Karen is the author of
My Father's Gardens,
the story of a young girl who comes of age in two languages, and on two shores, between warring parents and rules that change depending on the landscape and the proximity of her mother. Struggling to find her voice and her place in the world as a result of her frequent travels between her native Israel and the United States, she feels that she must
choose a place to call home. As her scenery alternates between warm Mediterranean and snow-capped mountains, loud-mouthed Israelis and polite Americans, so do her loyalties: Is she more Israeli or American? How will she know when she has arrived? And while she chooses she is slowly transplanting bits of her father's gardens on foreign soil.